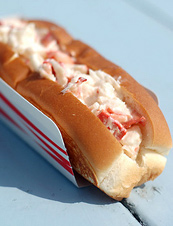 Burger. Mother. Beer.
All great things that end in -er.
But they've all got some pretty stiff competition from lobsta...
(Okay, okay, mother probably doesn't. Probably.)
Stand clear, here comes the
Lobsta Truck
—a rolling ode to Maine lobster rolls as they are meant to be dubbed, now roaming the Bay Area.
What you've got here is a big red truck with a big white lobster on it. So, truth in advertising and all that. Inside this truck is actual Maine lobster on an actual Maine split roll... in California. Everything's getting shipped over from the East Coast about five times a week.
Have it with hot drawn butter or with mayo
. Your call, but... you're wading into controversial waters here.
Also on this truck: crab rolls. Fish-and-chips. Clam chowder and lobster bisque by the cup or pint. All of 'em just make you feel like you're on a schooner off the coast of Maine, the sky is clear, the water is smooth and... you're eating a lobster roll. Yep, that's Maine.
Soon they'll get their San Francisco fog truck.