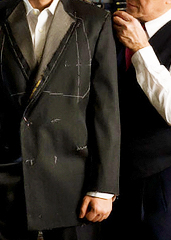 Picture it:
The day is here. The tux is out. There's some sort of red carpet or benefit or magnificent donut shop ribbon-cutting happening, whatever, the occasion is not important right now.
What's important is that your pants don't fit anymore. Apparently your body can't help but get more amazing every year.
Not to worry, a tailor is hurtling toward your door...
Give a grateful handshake to
Haberdash
, a soon-to-launch app delivering on-demand tailors to your door, wherever that door may be, taking names now for their beta rollout in San Francisco.
Uber for tailors. That's what this is. Once you've gotten your name on their list and everything is up and running, you can then schedule an appointment whenever—or if it's an emergency, you can get someone to your place, or your office, or your favorite café, within the hour. Café might be weird, but that's on you.
And yeah, they've made it real easy. Payment is handled in the app. All your measurements are stored. Most alterations can be done on-site, but if hypothetically named Reginald (all tailors should really be named Reginald) needs a couple days on a serious job, he'll take your jacket away, work his magic and deliver it when it's ready.
Hypothetical Reginald's a really good guy.