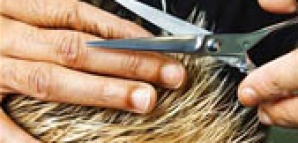 If you have pull, things come to you. Christina Onassis had Diet Coke flown in on a private jet. The Sultan of Brunei imported 200 Rolls Royces for his personal use.

We assume you already have those things coming to you, but you possibly also need a haircut.

The next time you can't get off your conference call, but simultaneously need an extremely stylish coif, you might want to call industry insider Eugene. The laid-back stylist works at a high end NYC salon, but moonlights as a below the radar go-to for celebs and MTV and VH1 awards shows. But what really sets him apart is that you can get his skills without leaving your desk.

Call Eugene with a few days' notice, and he'll show up in your office ready to go. No power outlets? His clippers are cordless. Your partners hate hair on the office floor? Eugene brings a disposable plastic tarp for the carpet (also useful for getting rid of unwanted business associates). In as little as 20 minutes, you've got a sleek cut, and you didn't even have to log off of IM to get it.

Which should free you up to make sure your team of masseuses is arriving as scheduled.