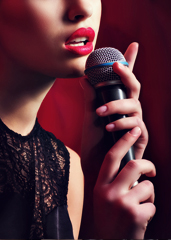 For too long, karaoke's just been about fun and beer and camaraderie.
But where, you ask, are the trophies?
Where, indeed...
Say hello to
Gotham City Karaoke
, a karaoke league where you'll sing your heart out for fame, glory and sweet, sweet mantel candy. And right now, it's offering access to early registration exclusively to UD readers.
This is a competitive karaoke league. That's it. We know:
finally
. It goes like this:
—You sign up, either as a team with seven other golden-piped friends, or by yourself, as a free agent (for ringers only). The next season starts in May, but registration starts soon. And we're hooking you up with
first dibs
. (Let's just say they've experienced high demand.)
—You show up with your team on the night you've chosen, at the bar you've selected. (Right now, it's all happening at Pioneers Bar in Chelsea.) You'll be given a theme and
11,000 tunes
to choose from.
—Each night, you'll choose two players to do solos (everyone has to do two for the season), and then you'll do one song as a group. Backup dancing. Weird costumes. All is permitted. For the eight-week regular season, this routine is judged by the crowd.
—After Week 8, it's two weeks of playoffs, judged by a guest panel.
Yes, this is when you should bust out the eight-man operatic extended version of "Bohemian Rhapsody."