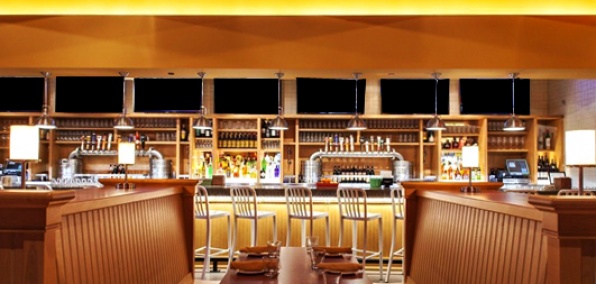 Sometimes in Vegas, you need something to ground you.
Something to remind you of the simple pleasures.
Something like a hefty gorgonzola-slathered burger.
That's where
B&B Burger and Beer
comes in. It's a Mario Batali venture that specializes in, well, you can probably figure that out for yourself, now open at the Venetian.
Actually, this is brought to you by Signor Batali
and
the Bastianiches. The same team behind Eataly (planet-sized Italian markets in NYC and Chicago). What you've got here, though, is a simpler idea—just an indoor/outdoor burger paradise with 20 flat-screens, gondola views and a takeout window. See? Simple.
So
let's talk burgers
. On one end, you've got
The Drive-Thru
—double griddle patties on a sesame-seed bun. On the other, a bacon, gorgonzola, onion and chianti-mustard behemoth they call
The Really Good
. That's pretty good.
Anyway, here's how we see your future. You and some fellow sporting enthusiasts place a wager at the Cantor Race & Sports Book across the casino, then stake out one of the wooden booths opposite the bar here. Burgers: consumed. Bottles of Speakeasy Double Daddy: sipped. Flat-screens: yelled at.
And that's the story of the time you lost your shirt on the Puppy Bowl.