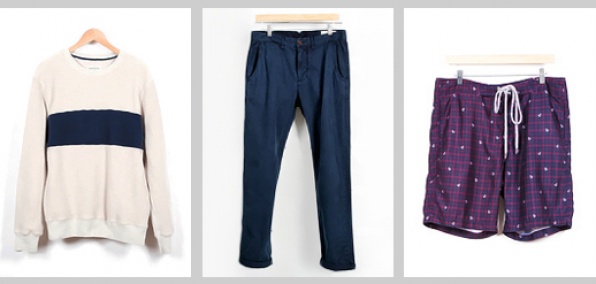 Okay, fine.

So maybe your morning didn't begin with you and a special bikinied someone watching the sunrise through open French doors in a beachside bungalow.

But in the event you just want to dress like it did...

Take a long walk on the beach with Surfside Supply Company, a new site from a Theory vet that lets you send for crewneck sweaters, broken-in chinos, boardshorts and other things that pair well with a strip of sand, online now.

If the rumors are true and Gerard Butler ends up remaking Point Break, 1) God help us all, and 2) this is the kind of stuff he'd probably be wearing while perfecting his "You know I can't live my life in a cage, man" between scenes.

But really, it's just a good place to start browsing around before heading even further south for the winter (or at least a week's worth of it).

They've got canvas pants and navy-and-white sweatshirts for the ride to the airport. Short-sleeve polka-dot shirts and nylon trunks with little anchors all over them for your first wardrobe change after check-in. Storm blazers for when there's a tropical storm and you have to seek shelter in a deserted island's nonfunctioning lighthouse...

Again.