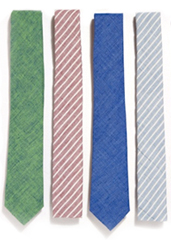 ***HANDSOME NECKWEAR ADVISORY***
 EARTH NOT YET FROZEN... HANDSOME NECKWEAR ADVISORY IN EFFECT UNTIL FURTHER NOTICE...
 LOCATIONS... HOME... OFFICE... BAR... THAT ONE FRENCH RESTAURANT... OTHER PUBLIC PLACES...
  HAZARD TYPES... NONE, REALLY... THEY'RE JUST TIES.
Chin up for Glendon Lambert, a new line of Brooklyn-made ties that just so happen to be nicer than virtually every other tie, online now.

The story here is that a guy named Glendon wanted a corduroy tie. However, Glendon had a problem. Glendon couldn't find a corduroy tie. So Glendon did what any reasonable guy would do: Glendon got in touch with some legendary European mills, imported a bunch of their finest fabrics and made some damn ties. Fast-forward to today, and Glendon is selling those very ties on his new webstore. Excellent.

So go ahead and declare this guy your official neckwear sponsor of 2014. Then treat yourself to a periwinkle number made of Florentine virgin wool. And squirrel away some yarn-dyed linen ties for spring. Oh, and the petit cord ties. Kind of his specialty. Get a bunch of those, obviously.

Glendon appreciates your patronage.