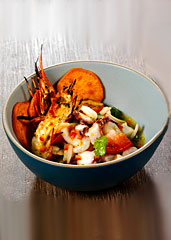 Finally, all that Thanksgiving travel is over.
No more security lines. No more baggage-check pandemonium. No more random Holiday Inn pop-up restaurants with a great chef secretly hiding out in the kitchen.
Wait, that last thing is a new thing, isn't it...
Check into
Warren's Blackboard
, an experimental pop-up from Westside Tavern and Saddle Peak Lodge's former chef Warren Schwartz, now quietly open in North Hollywood.
Yes: you're headed to an outdated, adobe-roofed diner at a former Holiday Inn. Yes: in the Valley. Yes: with way-'70s carpet and the occasional bathrobe-wearing guest in the booth next to you.
And yes: this is about to become a completely different boutique hotel called the Beverly Garland. So while construction gets under way, you're here to see a great chef covertly tinkering with ideas for his new restaurant. Bathrobes or no bathrobes.
Arrive with somebody who's intimately familiar with the chef's burgers and churros. Order a double-rum mai tai with almond syrup, then scan his constantly changing blackboard menus. You may see pork chops with apple slaw and polenta. You may see Korean short ribs with spiced pumpkin. You may... not.
He's just playing around, seeing what works—soliciting feedback, that kind of thing.
Maybe he'll name the pork chops after you.