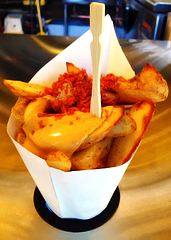 After the big feast tomorrow, you might briefly ponder never eating again.
Then you'll remember there's a new place devoted solely and exclusively to french fries, and, well... french fries.
Hold out a paper cone for
3 Potato 4
, a closet-size takeout joint devoted to fries and... that's pretty much it, just fries. It's now open on Market.
Step inside, and decor-wise you'll see... stuff that doesn't matter. You're here to
order some french fries, immediately
. Just know that technically they're neither French, nor fried. They call 'em "potato fries" around here—they're air-baked for three minutes, they're regular or sweet potato, and they're ordered in three sizes. Easy.
So once you order the large, you actually have some tough decisions immediately ahead. Real fork-in-the-road kind of stuff. Because they have about a dozen sauces, everything from jalapeño-pineapple BBQ to Thai chili, and extras like sriracha, chipotle salt or vegan bacon bits.
And okay, the decor. It's kind of great. Because it's covered with posters of astronauts and space exploration. For no reason. Well, for a real stretch of a reason, at least—potato plants went up on the
Columbia
shuttle and were the first food grown in space.
By humans.