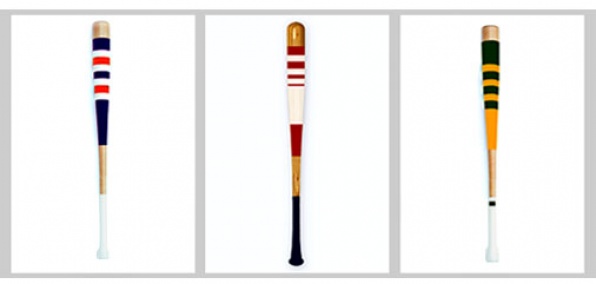 The Sox were pretty good to you this year.

Okay, really good.

And it got us thinking: you should buy a really unnecessary but also really good-looking baseball bat to commemorate the season.

No, really. It got us thinking that.

So here, meet the Mitchell Bat Company, a new outfit responsible for hand-carving former trees into seriously dapper baseball bats/mantel candy, online now.

These straddle the fine line between being baseball bats and being... well, art. On one hand, they're carved from solid maple and hand-painted in classic striped patterns. Art stuff. But on the other hand, they can send baseballs great distances. Bat stuff.

But you don't want to hit baseballs with these. Not with these. They're too handsome. Too hand-brushed and polished. Too perfectly suited for sitting above your mantel next to all your other baseball bats that are just for looking.

...

Fine, you're totally hitting with these. You're hitting Babe Ruth–signed baseballs over fences with these while wearing pinstripes and making old-timey announcer comments.

Oh, and every one of them is named after banner Series years or great baseball towns. Like "St. Louis" and "The Boston."

We heard one of those bats just clinched a series.