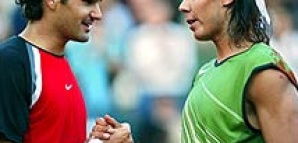 The streets of New York—where the most unusual things can happen...and usually do.
This Thursday will be no exception. With the
U.S. Open
right around the corner, Roger Federer and Rafael Nadal (#1 and #2, respectively, for those of you who haven't watched tennis since Johnny Mac was banging around a wooden racquet) will face off in the
NYC Street Slam
, an exhibition match right in the streets of Manhattan—for free.
Starting at 11 am, 54th Street between 3rd and Lex will be transformed into a preview of what will likely be the U.S. Open final. The two best players in the world will do battle in a somewhat unorthodox setting—the shadow of the Citigroup Center, in the heart of corporate midtown. The court won't be regulation size, but it will be wide enough to allow Federer some room to unleash a monster forehand in the direction of Nadal's capri pants. And if you think you have the return game to handle a 150 mile per hour serve, Federer and Nadal will be hand selecting some audience members to give it a go. (Have no fear: there are several hospitals only a short distance away).
Unfortunately, Sharapova won't be there to watch your brilliant display of misguided confidence disappear in a blur of yellow felt. Actually, you're probably better off.