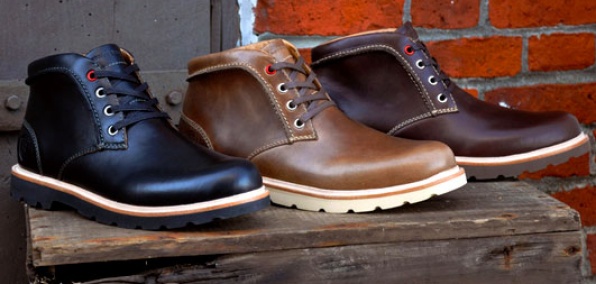 Back in the pre-Boston days, some guys showed up and thought, "Great city to wear boots."

And yesterday, you walked outside and thought, "I need boots."

Coincidence?

Well... yeah, probably. Still, here's Boston Boot Co. and their new trifecta of hard-living, water-resisting, boot-shaped leather things to put your feet inside of, available for preorder now on Kickstarter and shipping in March 2014.

You like canvas shoes and suede boots as much as the next person who likes those things. But not winter. Winter hates them. That's why these are equipped with things winter fears. Like waterproof Horween leather, waxed-canvas uppers and moc toes. So should you find yourself ankle-deep in slush, you'll be like... fine.

But it's not all water resisting and snow trampling. You've also got handsome details like wing tips, contrast stitching and red eyelets. So should you find yourself wearing them on a date, they'll be like... handsome.

You've got three choices. The Commonwealth chukka. The Newbury dress boot. And the Cambridge field boot. All of which will make their maiden shipping voyage in March.

Just in time for yep-it's-still-winter.