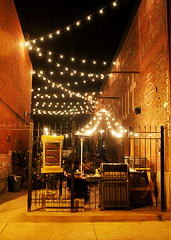 The future is here. No, not the future of jetpacks and intimacy with robots. You'll still have to wait for that.
But the future where you eat tacos out of Fritos bags. That's here. Tonight.
Here then,
Impala Cantina y Taqueria
, a Mexican pop-up coming Tuesday nights to the Pug and Saturday nights to the courtyard next to where you'll soon find a permanent restaurant.
What we have here: basically a utilitarian way station for Mexican street food. On Saturday, that involves alfresco touches like strings of lights overhead, fire pits and old barrels. At the Pug, however, that involves indoor touches (like warmth). Also, it's tonight, so it's got that going for it.
Either way, you'll encounter a rotating array of tacos like beef tongue and barbacoa, and Sonoran hot dogs with bacon, pico de gallo and cheese.
But you'll probably want to ask for a bag of Fritos or Doritos. Yup, namely their 
Impalocas
. They're basically a Frito pie on steroids, which has them stuffing tilapia ceviche, chorizo or a pickled mix of cactus fruit, mango and habanero into a bag of chips and letting you attack the whole mess with a fork.
And just like that... Cool Ranch ceviche is born.