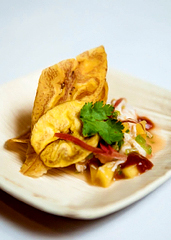 It's Monday, and you're feeling pretty ambitious.
Time to set up a great dinner for tonight. And maybe 80 secret underground dinners for next year, while you're at it.
Behold the members-only power of
Dinner Lab
, a new private supper club that'll host about 80 secret dinners in clandestine locations all over San Francisco in 2014, accepting members now.
First what you need to do is secure a membership on the website—they're only offering 200 right now, so hurry. Anyway, paying some annual dues means you're invited to get tickets for any upcoming dinners you'd like to attend.
It might be in the back room of a winery, among the barrels. Or in a random barn. Or next to some tech zillionaire's pool. Hard to say. You won't even know when you book it, actually. They'll tell you the location a day or two beforehand. Part of the fun.
What you will know is who's cooking you a few courses, and what the menu theme is. In other cities, they've rounded up chefs who've been in the kitchens of Gramercy Tavern and Alinea. Kitchens that are, you know, doing pretty well for themselves in the food-reputation department.
All due respect to the one at your place.