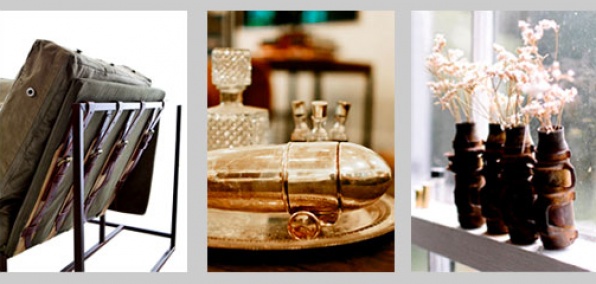 If your living room could talk...

It would scare the sh*t out of you. At first.

But eventually, you'd get used to it. And then it would probably just ask for things from here.

Salute Acre Goods and Services, a husband-and-wife home-design duo fixated on weathered US furniture and random Americana, now operating out of Venice.

When these two aren't designing Todd Snyder stores in NYC or traveling cross-country searching for reclaimed treasures, they're hanging in Venice. Booking in-home consultations. Creating custom pieces. Shipping things from their website that would look perfect in your place. Things like:

A Couch That's Been to War
Imagine a regular couch. Except with a steel frame, leather belt buckle straps and cushions that have been upholstered in WWII military fabric. You could be watching football on that.

A Zeppelin-Shaped Shaker
What you've got here is a vintage cocktail set with a silver martini tumbler that's made to look like a zeppelin. Start dropping hints that you want this for Christmas.

Some Gun Shells
Where most people see a rusty old gun shell, the Acre folks see a rusty old gun shell that would look great holding flowers on your windowsill.

There's a Guns N' Roses joke here somewhere...