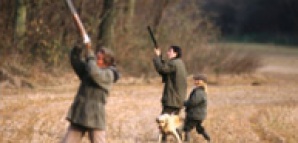 Nothing says summer like estate sports, and unless you know a fox-hunting place (don't worry, we're looking), trap shooting may be your best bet. Manhattan Shooting Excursions is here to help.

From their "rally point" on the Upper West Side, MSE will whisk you and a group of friends to an undisclosed location an hour upstate, where you can finally work out your blood feud against clay pigeons.

For beginners, MSE will set you up right behind the trap house and shoot the clay pigeons out all at one angle, so you won't spend an hour waiting for your first clean hit. And if you just want to shatter some clay, they'll hang the targets from a string and let you go at them with an assault rifle.

MSE also boasts an arsenal of more conventional guns, from modern military assault weapons to civil-war era blackpowder rifles. They'll even let you strap on a six-gun so you can play John Wayne, or an M1 Garand from World War II, so you can play...John Wayne.

When the magic's over, you get a memento of your choice, like a set of dog tags or a house-labeled ammo case. Don't be surprised if you start rethinking your weekend plans—suddenly the Hamptons seem pretty tame.