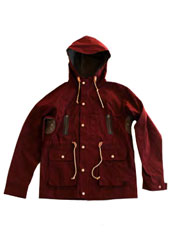 This fall, you'll scale the heights of Mammoth.
You'll chase waterfalls in Malibu.
You'll... try not to get soaked by a rearing lawn sprinkler when you're walking up to a barbecue.
Here to help on all fronts—especially with the brutally gentle sprinklers—is
AXS Folk Technology
, a new LA-based line of outerwear that works on the mountain and the street, available now at Union and Milkmade.
Sure, these are the kinds of trail parkas, wide-neck anoraks and wool-and-nylon jackets you'd pack for a serious mountain-climbing bender—they're made of sturdy canvas, twill, corduroy and poplin that'll protect you from extreme rain, wind, snow and any errant drops of condensation from your iced latte in the sun. (There's also some classic thermals and stuff, in case you tend to wear things under your coats.)
But they come from the same guy who endowed the Farm Tactics shirts with a simple, classic look, and these coats follow suit—think comfortable and lightweight, basic enough that you could totally wear one to the Greek, next time you're there on a crisp night to see the bearded-lumberjack-y folk-rock band of your choice.
Or of your second choice.