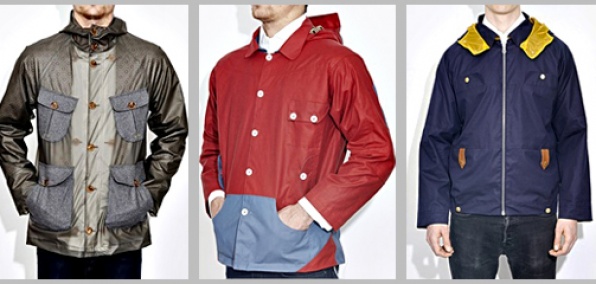 Cigar aficionados.

Music lovers.

Nanotechnology enthusiasts.

If you're any of these things, you'll be very happy today.

If not: hey, you'll still look good in a thunderstorm.

Bring on the inclement conditions for Bee, a technologically advanced line of British outerwear from that island of rain and fog, online now.

If Q dabbled in raincoats, these are what he'd create: the kind of precipitation-fighting garments endowed with hidden umbrella pockets, subway card wrist slots and horn buttons. So if you're that...

... cigar aficionado, head to their website and get the Ghost Jacket. Inside, you'll have a removable wool lining that's wearable separately as a smoking jacket. Or a really ineffective raincoat.

... music lover, go for the Festival Jacket. It's got a hidden foldout seat to sit on during soggy outdoor concerts. Also useful: antibacterial sleeve linings. (Hey, if it comes standard...)

... nanotechnology enthusiast, strange. But anyway, get their Bi-Cycle Jacket. On one side, it's made from a futuristic Swiss fabric that cleans itself using oil- and dirt-repellent nanoparticles. And on the other side, it's...

... just navy blue, really.