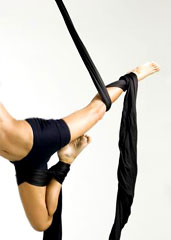 We just learned that you've been doing your workouts all wrong.
Which is to say, right side up.
And not hovering over the ground while entwined in a silky hammock.
Don't panic. This place can get you all sorted out.
Meet
AIR Aerial Fitness
, a new workout studio that combines all the muscle-burning intensity of CrossFit with the death-defying elegance of a Cirque du Soleil performance, now open in Lincoln Park.
If this is the first time you've been involved in aerial acrobatic workouts, they'll start slowly. A little upbeat music. A little stretching. Then you'll wrap yourself in the loop of a silky sheet that's hanging from the ceiling—they call it a hammock, and it can support a half ton—and follow the instructor's lead.
At first, this is going to seem weird for a workout. Or... for anything, really. Just picture someone hanging from a silk sheet that's fastened to the ceiling for 50 minutes. And that someone is twirling. And doing pull-ups and midair burpees. And climbing. And sweating. But... that someone is also getting pretty toned. And that someone is you.
Next stop: Vegas.