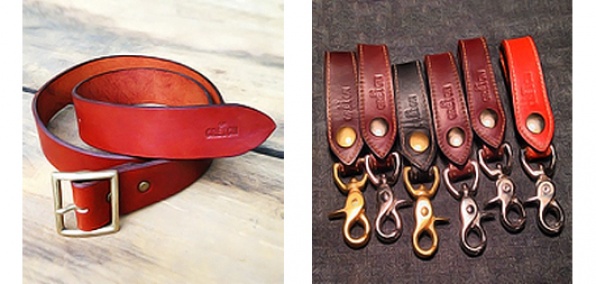 Dressing yourself. You mastered it a long time ago.

Shirt. Pants. Jacket. Tie. Shoes. Boom. Done.

Wait, not quite done. You still need to hold up your pants.

This should make it easier: Greign, an emporium of thick-cut, man-made leather belts and other leather items from Los Angeles, online now.

You're probably wondering if LA, with its vapid reality stars and showy Emmy dance numbers, is capable of creating leather goods that are as strong and durable as Chicago's Horween leather. The answer: no.

So they're using mostly Horween leather, as well as other leathers usually reserved for horse bridles. Bottom line: your pants are very secure.

Oh, and by "they," we mean one single, solitary, leather-shaping guy. His name is Travis. Go online and look through Travis's handiwork. He's got four belt styles and a few buckle options. Choose your ideal belt/buckle combo and click "buy," and in a few weeks, you'll have your new leather strap.

Also on the site: accessories like leather key fobs and leather cases for an iPhone 5.

So embarrassing when your belt doesn't match your phone case.