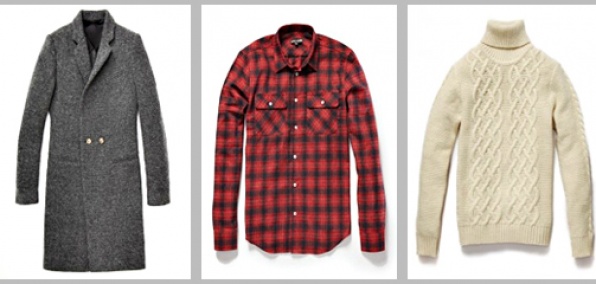 Now that it's officially fall, a quick preview of what's in store:

College football. Pro football. Your date crying at Gravity. You crying at Gravity. Apple picking. Cider. Pumpkin beer. Thinking, "Right, today's Columbus Day." Wassails. Dressing as "Blurred Lines" for Halloween. Thanksgiving turkey. Thanksgiving leftovers. Fin.

It's glorious.

Actually, wait: we forgot one thing...

It's called Slate & Stone, it's a smartly autumnal new line of wearables from NYC (of all places), and it's online now.

What you have here is your garden-variety shop full of September-worthy handsome. (Not that such a thing could ever be garden-variety.) The kind of stuff Michael Caine and Daniel Craig would wear to Cannes, if Cannes were held in Vermont for some reason. (Which...)

We're talking buffalo plaid shirts that'll beg you to jump into a leaf pile. Cable-knit turtlenecks you'd wear while teaching a course in Fitzgerald's use of the automobile as metaphor. Gray wool topcoats that we have it on good authority might also prove useful during winter.

Oh, and it's all brought to you by a guy whose dad has 30 years of experience in the fashion business.

Beyond wearing clothes, we mean.