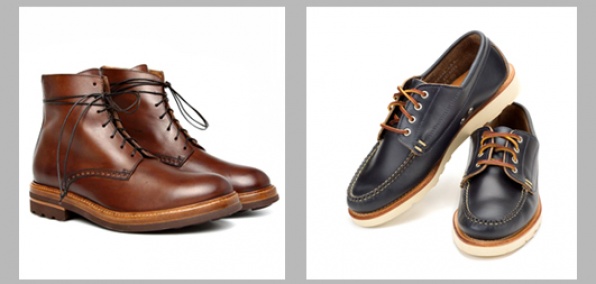 Today: feet everywhere rejoice. Because the legendary Italian bootmakers at Buttero got a website, and America's first family of footwear, Rancourt & Co., just debuted a new build-your-own-custom-shoe thing online. But since you can only wear one pair at a time, allow us to assist your decision making... with a tale of the tape.

The Pedigree
Buttero: Founded 39 years ago in Stabbia, Tuscany, by a renowned Italian leathersmith.
Rancourt: A third-generation cobbling outfit from Maine that's been hand-fashioning shoes in the same way since the Johnson administration.
Edge: Buttero. You should see what happened to the last guy who crossed an Italian leathersmith from Stabbia.

The Style
Buttero: Derbies, monk straps and all manner of boots made from vegetable-tanned leather they got just down the road.
Rancourt: Well, you tell us. It's a custom job, so you'll be picking the leather, the sole, the color and the details. No pressure or anything.
Edge: Rancourt. It's time to meet your suede chukka soul mate.

The Leaf-Crunchability
Buttero: Forget about leaves. Those hand-treated leather desert boots could probably step through a maple tree's trunk.
Rancourt: Did we mention these come from Maine?
Edge: Push. There are no losers in autumn. Except maybe the Astros.