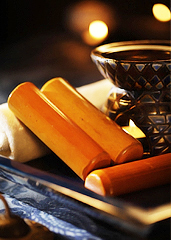 The Chinese have a proverb for days like today.
"Sneak out of work early. Get a massage."
Okay, that's not true. At all.
But speaking of massages and China, there's this: the
Bamboo Harmonizer Massage
, a rubdown that involves having wooden sticks rolled all over your body, available now at the Peninsula hotel.
Pretty simple concept, really. It's a massage. With bamboo sticks. At the Peninsula. First thing you'll want to do is book an appointment. Then, find your way to the 20th floor of the hotel, slip into a thick robe and slippers, take a quick steam, yada yada yada, citrus water.
You'll be escorted into a dimly lit room. You'll get on a table. Probably want to lose that robe. Then, a massage therapist armed with nothing but four bamboo sticks (and, well, arms) will deploy them over your clove-oil-lubricated body. Yes. There will be clove oil.
Some of the rolling will hurt. But, you know, the
good
hurt. Some will feel like warm butter. All in all, you'll like it. The idea is that bamboo brings prosperity and good luck, and reinvigorates your chi. And even if it doesn't, your muscle kinks will be gone.
And you'll be irresistible to pandas.