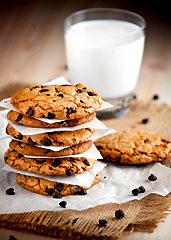 Cookie Monster.
Keebler Elves.
The Cookie Crisp Crook.
A late-night cookie delivery guy.
They all share one thing in common: excellent taste in baked goods.
But only one's stopping by tonight.
We hope.
Leave the light on for
Night Owl Cookie Co.
, a local outfit delivering freshly baked cookies, donuts and milk to your door until 2am, taking orders now.
Consider this the scratch to your late-night-munchies itch. Like when it's 1am. And  thoughts of warm, chewy cookies are moonwalking through your head. If only you could will their sugary goodness to your door...
Well, knock, knock—it's cookies.
Getting them requires a bit more than just intently gazing at your doorknob. But... not by much. Log on to their website and peruse the 25 cookie options. Then, call them up and order
a couple of cheesecake cookies and Pot o' Golds
(sugar cookie dough mixed with Lucky Charms), throw in a gallon of chocolate milk for good measure and wait for the cavalry to arrive.
Right now, they're only delivering between 8pm and 2am. But starting October 1, you can get your chocolate chip cookies and glazed donuts (yeah, they've got those, too) starting at noon.
It's part of a well-balanced hangover cure.