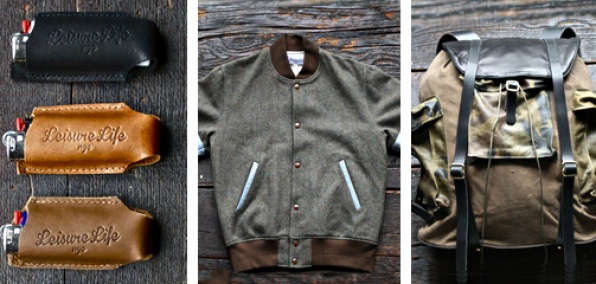 Right now, the weather's in that sweet spot.

Not too hot.

Not too cold.

The bad news: sweet spots sometimes don't last very long.

The good news: we found some stuff that will.

The stuff from Leisure Life NYC, a new webstore with the kinds of varsity jackets and rucksacks that look like how drinking that first hot toddy feels, online now.

Long story short: a guy in New York got inspired. He sewed an armband onto a tweed jacket here, a hidden pocket onto a military-style backpack there... and ended up with some really handsome things. Long story even shorter: you can now get your hands on those things.

On the off chance you're all stocked up on varsity jackets (to be clear: stocked up is ≥ 1), they've also got vintage coats from BKLYN Dry Goods. Anoraks and field jackets and pullovers that, yes, you will need while camping with one of those aforementioned rucksacks.

Oh, and before you check out, grab a lighter cardigan. It's a leather case that's lined with suede so your lighter won't fall out.

And suddenly, your lighter looks like an English professor.