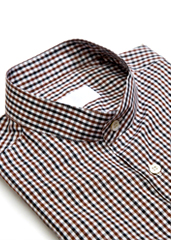 And just like that, summer's over.
Also coming to an end: the suntanning. The paddleboarding. The gratuitous shirtlessness. Well, at the office, anyway.
So it's time to get you set up with a new shirt guy.
Here's a place to start:
Blank Label
, a showroom with lots of Italian fabric and just a little scotch, now open in River North.
If the name sounds familiar, it's because they've been running an online custom-shirt company out of Boston for the past three years. Now, 30,000 shirts or so later, they bring their tailoring skills to a sparse-but-efficient loft space on Ohio Street.
You'll take a seat in what looks like a hybrid between an Eames chair and a barber stool. Then, really open up to their haberdashers regarding your innermost feelings about medium-weight poplin and widespread collars.
If it takes a nice glass of single malt to do that, so be it. If you need something to put over your shirt—a two-button jacket, for example—that's not a problem either. And then you'll leave. Go home. Forget this ever happened.
A week later, you'll come home to find a package at your door.
Let's just say it wasn't the shirt fairy.