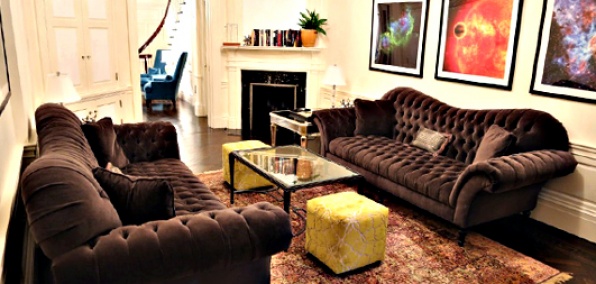 Got a quick fairy tale for you today.
Once upon a time, James and Rita—a married inventor and creative/scientific consultant, respectively—bought a house in Murray Hill. Then turned it into
Science House—
five spiral-staircased floors of parlors, tufted-velvet sofas and roof decks to do... basically whatever you want.
Off the top of our heads:
Have a breakthrough.

The space was meant for productivity. There's a lecture hall, library and whiteboard-walled living room. Oh, and a massive Rolodex of Google luminaries, NASA masterminds and artists who can facilitate your genius. (Not that you're not
every
bit as capable as NASA.)
Poker night.

Head downstairs and
you've got space
for 10-person, fully catered private card games. Also, James was a game mathematician for the Tropicana in Vegas, so listen to his pointers.
Rooftop cocktail parties.

Your view here: Chrysler Building in one direction. Empire State Building in the other. And an on-demand bar setup. Public rooftop cocktail bars just don't cut it anymore.
Time travel.

James and Rita are also futurists. Which means they know what future technologies will look like. So they invent props and even functional creations for movies that take place in said future. For directors. And you.
Where you're going, you don't need roads.