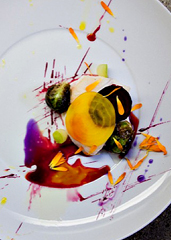 You're deep inside a dark forest.
You stumble across some animals. They appear to be stuffed.
You look up to see a dangling chandelier—weird. Also, it appears to be made out of teeth.
Behind you, something clatters.
You're either at an astoundingly mysterious new dinner party inside a museum, or something pretty bad is about to happen...
Prepare your game face for
Cut Your Teeth
, in which LA's hottest underground dinner party, Wolvesmouth, steps into a museum exhibit that's basically a full-on creepy forest—tickets go on sale Friday at 9am.
In short, this is your one critical thing to do Friday: get tickets. This thing lasts only a few days. And it's Wolvesmouth. So yeah.
After that's handled: you'll wait. You'll wonder what you've gotten yourself into. Come October, you'll head to the Santa Monica Museum of Art and see... well, we can't tell you everything you'll see. But count on wood-block tables, tooth chandeliers and a lot more stuffed wolves and birds than you usually find around your table.
As for what you'll be eating... can't tell you that, either. Spontaneity is part of the chef's shtick. If you've never had one of his dinners before, don't worry.
The virgin always survives.