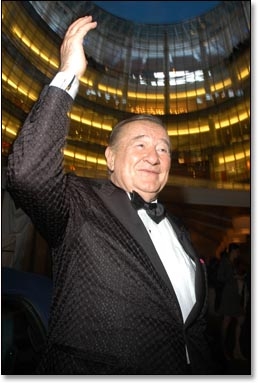 Sometimes you have to go straight to the source to figure out how to do things right. On the day of the highly anticipated opening of Le Cirque, we chatted with legendary owner Sirio Maccioni, who's wined and dined buddies like Frank Sinatra, Jackie O., Woody Allen and Oprah, and who knows a little something about the three-ring circus of New York restaurant life. Here, Sirio shares his insider's guide on how to do Le Cirque right...from reservations to ordering to what your woman should wear (take note).
UD: Can anyone really walk through the door?

SM
: Yes.
UD: You're already booked months out. What's the best way to get a reservation?

SM
: Everybody wants an exact time for a reservation. It's better to call and say, "I would like to eat in the restaurant, what time can you recommend me?" It's even better to say, "I come to have a drink at the bar, and when you have a table come and get me." There is no question that you will get a table that way.
UD: What's a surefire way to get denied a reservation?

SM
: If somebody says, "Oh, I don't want to wait. I want a corner, I want not that noisy, I want to come quarter to eight." Then you've got to say, "I'm sorry, no."
UD: Does it help to use your name?

SM
: No. People call and say, "Sirio, Sirio, Sirio" on the phone. It's not true that they want Sirio. They want someone from Le Cirque to answer yes, or no.
UD: Which night of the week is best to come?

SM
: I like Monday. People are coming from the weekend. Usually for this type of restaurant the weekday is better than the weekend.
UD: Your Rolodex reads like a "Who's Who" of society. How many reservations slots do you leave open for VIPs each night?

SM
: More than 50%. Because we know that half the people are Le Cirque people who come twice a week. They just want to come in. Today, we have Mrs. Kissinger come in to look at the place. We have to know that the moment she comes in here, we have to say yes.
UD: What's your favorite seat in the house?

SM:
I don't sit. But when I do, I like the chef's table in the kitchen. People like it. But after a while, they say, "Tt's noisy." What do you think? It's in the kitchen with 25 people cooking back there. It seats maximum eight people.
UD: So it's still jacket-only at Le Cirque—is that somewhat old school?

SM
: You need some kind of rules. We do not permit sneakers, shorts, hats. Jeans are okay, they can be elegant with a jacket. Generally women are dressed better than men. Women, we don't really care if they come naked, but men, they have to wear a jacket. [laughter] Just kidding.
UD: What are your favorite items on the menu?

SM
: My favorite is what my daughter says I should not eat. Liver, kidney, tripe, pig feet.
UD: What does the chef make for your regulars?

SM
: We have a beautiful degustation menu. Five courses for $135. And another thing we do here is that if there is something you don't like, you can interchange it with other things.
UD: Strangest off the menu request that you've honored?

SM
: Some people ask to bring in their own mayonnaise from home. I let them, once in a while. People have very strange requests.
UD: Something about Le Cirque that no one knows?

SM
: That we are nice people. They don't believe so, they might think we are snob.
UD: Something about Sirio that no one knows?

SM
: I like everything that is difficult. I like to have most of the things that I cannot have.
UD: The most welcome customers at Le Cirque?

SM
: Young people. And women.
UD: What kind of women?

SM:
If I say beautiful woman, that will get me in trouble. Because all kinds of people will come in here, [high pitched voice] "I am beautiful!" [laughter]
UD: What's the one best tip you have for how to fully enjoy Le Cirque?
SM
: Give a sign of what you like, and what we can do to make your evening better. You can ask questions—we have a lot of people here, a manager, a maitre d', you have me. You have the possibility for a great restaurant to tell you what it can do for you. If you don't want to open up, then the restaurant becomes like any other restaurant.