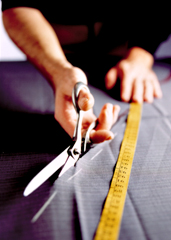 If you want a custom suit, it's pretty simple. You go to a tailor.
Actually, maybe that's a little too simple.
Let's throw a magician into the mix and see what happens.
Say abracadabra for
Gentleman's Cooperative
, a penthouse-based custom-suit emporium that just happens to be run by a real live, no-kidding David Copperfield type, now open.
This is located in a pop-up shop within the John Allan's salon. So now, in addition to coming here for a haircut, shave, scotch, shoeshine, sweeping eastern view and quick game of eight-ball, you can also get an Italian-silk three-piece number. You knew they were missing something.
The process is straightforward. You'll show up, tell a style expert what you want, peruse books of 600 Italian fabrics and pick one you like. Then you'll go into a secret room near the pool table and get measured in all the right places. About a month later, presto. You have a suit.
But speaking of presto, the guy showing you the fabrics is likely to be owner Nick Roy, a working magician, who you won't have to prod to show you some tricks. Illusions. Card gags. Making you look taller...
He uses pinstripes for that last one.