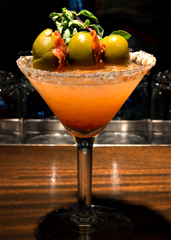 We're lovers. You know that. But every now and again, something comes across our desks that just seems... suspicious. Because of the tremendous material upside to all our lives if these claims pan out, we at times put ourselves in harm's way to investigate. Albeit skeptically.
We call it: Skeptical Investigation. (Trademark pending.)
THE CLAIM

You go to Jones for the pizza. And the martinis. Now they've put the two together in
The
Pizza Martini
—they say it tastes just like a pepperoni pizza in a glass. And that such a thing should exist.
THE INVESTIGATION

We sent our Senior Pizza Enthusiast into the fray. He pulled up a stool. He shut out the voice that said pizza and vodka should forever remain separate entities.
Then longtime barman/budding pizza blasphemer Eric Tecosky brought out his secret vodka, infused with pepperoni, oregano and garlic. Then came muddled cherry tomatoes. And basil. And olives stuffed with feta cheese, jalapeños and garlic.
It all went into an icy glass rimmed with parmesan and pepperoni. And extra pepperoni. It was stirred. Not shaken. Then christened with red and black pepper.
It looked like a pizza. It smelled like a pizza. It... wasn't a pizza.
THE VERDICT

It's crazy. It's wrong. It tastes like pizza. Pizza is delicious. This... this is actually pretty delicious, too.
Chase it with a pizza. And a martini.