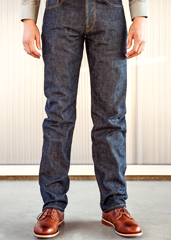 Left, right, left, right, left...
Oh, hey. Sorry.
We were just picturing what it'll look like when you're walking around in what we're about to show you.
Spoiler: it doesn't look not good.
Take a stand for
Paleo Denim
, a webstore with three cuts of indestructible handmade jeans that'll be ready just in time for any fall-related walking-around scenarios you may find yourself in, online now.
In order to fully understand all this, you must first understand the story behind the name Paleo. It's short for paleontologist.
...
Let's move on.
Just know that somehow it all translates to the kind of slim- and straight-cut denim sourced from Japan, West Texas and North Carolina that you can pretty much wear whenever. Casual Tuesdays. Fourth dates. Incredibly loosely enforced black-tie affairs.
Also, it's a Kickstarter thing, so the jeans will ship in a few months. But feel free to grab a vegetable-tanned leather wallet in the meantime. Maybe even a field-tested iPad case.
Thank God
someone's
field-testing these things.