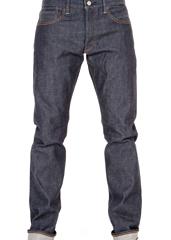 "I think we need some time apart."
"I just really need to focus on me right now."
"I love you, but I'm not in love with you."
Pick a line, any line.
And then gently let your current pair of jeans know it's over.
Rebound suspiciously fast with
Fabric-Brand & Co.
, a new lovingly made line of jeans and nothing but jeans from denim maestro Simon Miller, available online now via Ron Herman.
Simon Miller. He's the kind of guy who makes the kind of jeans that you'd describe with words like "indestructible" and "visionary" and "comfortable" and "looks good with everything." And, hey, we sort of remember you being in the market for exactly that.
So here's what you ought to do. Go to this site. You'll see two pairs of jeans. Pick one.
Option A: a faded-gray Japanese selvage denim that's made with a proprietary drying process. These are your nice jeans. Your first-date jeans.
Option B: a raw-denim blue jean that conforms to your body the more you wear it. These are ideal for walking in, standing tall in and tuning up a 1970 Plymouth Duster in.
1970 Plymouth Duster sold separately.