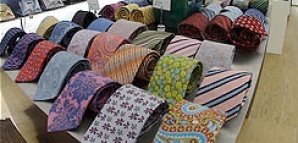 You can only alternate white and cornflower blue shirts for so long, but the thought of decking yourself out in gingham and paisley can be enough to scare off even the most daring dressers. Spread collar or two-button? It's time to bring in the professionals.

Modeled on European shirt-and-tie shops, the new 20 Peacocks knows their business, and they're passing that knowledge on to anyone who walks in. Come in with a suit, and they'll match you to a shirt-and-tie combo (and maybe even throw in some cufflinks).

They specialize in Italian shirts from designers like Versace, Zanetti and Zegna, as well as in-house work from the Rosmini family. (Note: Never take sides against the Rosmini family.) The shirts are colorful without being garish, so you can show a little flavor without worrying you can be seen from space. The ties tend to the adventurous (psychedelic checkers, anyone?), but even the more aggressive picks look good over the right shirt. You may even buy something purple.

The vibe of the store is more gallery than boutique, and there's espresso and wine (come fall) to help you think. On the wall, there's a flatscreen playing flicks like The Godfather and The Untouchables, in case you need some inspiration.

After all, the Don never wore cornflower blue.