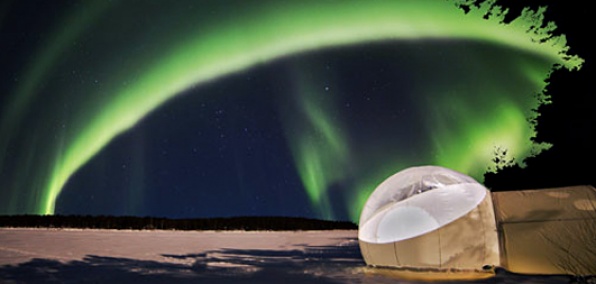 Bubbles are fun.

Especially the kind with beds in them that you can roll around in while watching the northern lights.

Or maybe that's just this one... 

Behold the random majesty of The Aurora Bubbles, a tiny cluster of transparent, bubble-shaped tents scattered throughout the Finnish wilderness. They're the best places on earth to gaze at the northern lights, and they're available starting in September through a little adventure outfit called Aurora Zone.

Yes, you're about to sleep in a bubble. A see-through villa, if you will. Decked out with a spaceship-style entrance tube, a cushy double bed, a powerful heater and a bathroom. 

You should also know that NASA predicts a once-in-a-decade solar maximum soon. Meaning light shows are going to be even more spectacular than usual in those parts. Meaning you'll want to hop a flight from London to the town of Nellim immediately.

That's where you'll meet your grizzled aurora guide (turns out, he's a thing), claim your bubble next to a frozen lake and look up. Or down. Whichever's more interesting at the time.

And while we can't say for sure when the aurora will appear, we can say that your guide will take you ice fishing and skiing during your downtime. 

They do these things.