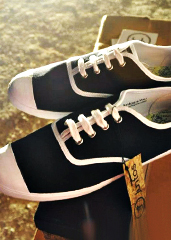 Today, a bit of magic.
Or, if you're Gob Bluth, an "illusion."
Because you're about to walk all over Ecuador in your bare feet.
Without ever taking a step.
Making the impossible possible (sort of):
El Zapato de Lona by Juntos
, incredibly dapper canvas lace-ups inspired by the street shoes of Ecuador and complete with a map of the country on the insole, available for preorder now and shipping in September.
Meet Mauricio and Andrew. You might remember them from that food truck at Art Basel that was hawking... shoes. Anyway, both are local, stand-up guys with an appreciation for Ecuadorian street style. Oh, and really comfortable footwear.
And that's exactly what you have here. Because these shoes are light. They're sturdy. They're the kind of thing you'd wear to an afternoon grill out or a night at Wood Tavern with a couple of beers. Also, when you buy a pair, they'll donate a backpack filled with school supplies to an Ecuadorian student. So, you know, you're helping others.
One other thing: right now, they're only available through Indiegogo. So you'll have to wait until the campaign wraps up next month to get your pair.
But hey... new shoes.