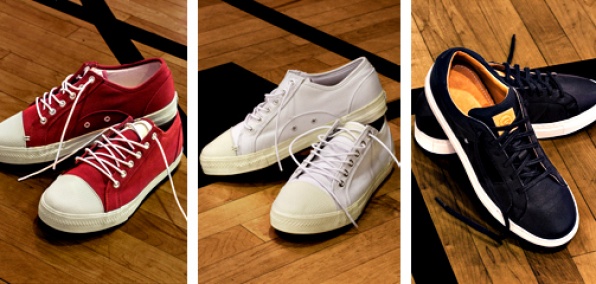 Give us your foot.

This little piggy went to market, this little piggy stayed home...

No.

Wait, no. This feels weird.

Take your foot back, put a shoe on it and pretend that never happened.

We were just trying to figure out the best way to segue into Greats Brand. Which, apparently, is just a handful of easy-on-the-eyes, vintage-looking shoes from two LA- and NYC-based guys, available online now.

We're not saying these are going to be your new go-to shoes for those "Hey, look at me, I'm all laid-back" moments, but... okay, that's exactly what we're saying. Think deerskin leather uppers and waxed-cotton laces and Italian rubber soles and other things that somehow become rather dashing when applied to a shoe.

But no, you're probably not going to slip these on for a first date. Unless your first date is in Piedmont Park. Then you could definitely pull off those red-and-white canvas low-tops. Or the blue-and-white ones. Or the white-and-white ones. Not going to get away from the white here.

Then just do things. Play a lawn game. Drink something out of a copper mug. Later, hit the showers, roll up your pants and unleash these things on an unsuspecting patio.

Or a suspecting one.