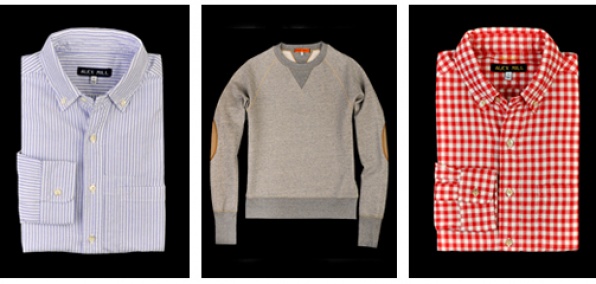 Big, earth-shattering news involving a high-profile guy named Alex.

No... different Alex.

The Alex who creates remarkable things for your torso.

Make the acquaintance of Alex Mill, an immensely wearable collection of plaid, striped and chambray things that you'll be shocked to learn don't already exist in your closet, available online now from Unionmade.

Like we said: this comes from a guy named Alex. Alex Drexler, to be exact. Son of one Mickey Drexler—who happens to be the CEO of a little-known haberdashery called "J.Crew." Meaning clean lines, simple cuts and classic style are sort of in Alex's blood. As is gingham. Lots of gingham.

So go ahead, have a look at the kid's debut offerings online. You'll see a quintessential white work shirt with mother-of-pearl buttons. That's good for basically anything. And a napped chambray button-down. That's good for basically anything, too. Also, a slim-fit cotton tee. That's good for basically anything, three (there's a trend developing).

Oh, and if you're that one person who's eagerly awaiting the transition into autumn, there're things here for you as well. Things like: a fleece sweatshirt with elbow patches.

Yeah, you could pick some apples in that.