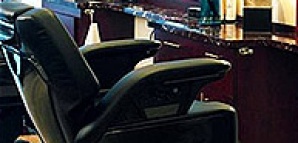 It's getting harder and harder to find a place that does haircuts and shaves without doing seaweed facials and "healing modalities."

Lucky for you, there are still a few scissor-men out there.

Exhibit A: A place in the flatiron called Barber Bart.

Drawn in by the hand-painted barbershop pole outside, we ended up finding a lot more than the usual dirty floors and disgruntled sports chat.

Bart traffics in old world luxury, with simple comforts like coffee, candy, and talc powders laid out for you while you wait. He's even got his Krakow barber's diploma framed on the wall, so you know he's a professional...if you can read Polish.

The haircuts are fine, but our personal recommendation is a shave. Bart has his technique down to a science, and he'll lead you on a journey through pre-shave oils, hot towels and your old friend the straight razor. His high-tech barber's chairs one-up Porsche seats by offering not only backrest and lumbar controls, but also heat and vibration on command—so you may go in for a half-hour shave and end up taking a half-hour nap.

Just don't ask him for aromatherapy.