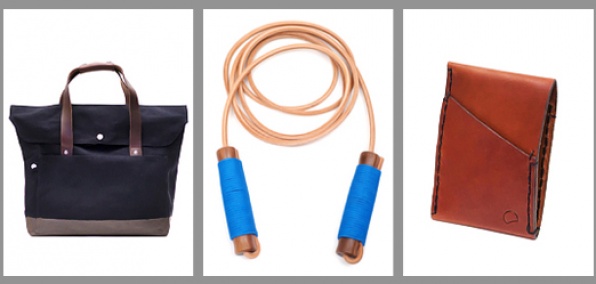 Today, you looked at your jump rope and said:

"I love you, jump rope."

Okay, that probably didn't happen.

That would be weird. Talking to your jump rope.

But you might get a pass if it was a handmade one out of Brooklyn.

Nope. Still weird.

Anyway, meet General Manufacturing Concern, two guys designing the leather wallets, jump ropes and brass church keys necessary for your day-to-day existence, online now.

This stuff is simple. No complex guesswork here. Just a bunch of beautiful, well-made accessories designed and crafted by two men in Brooklyn. That's it. Thanks for reading.

Except...

Well, there's a bit more. See, these are goods that'll last a long while. Stuff like hand-stitched bridle-leather billfolds you can tote around in your back pocket. And handsome leather-cord jump ropes that might actually inspire you to resuscitate some resolutions. Also: brass church keys that've been stamped, bent and hammered to withstand the most ornery of beer bottles.

And when you actually get your item, you'll find that it's been stamped with a serial number. You can use it to track down when and where your item was produced, the batch number and specific design details.

You like to keep close tabs on your leather.