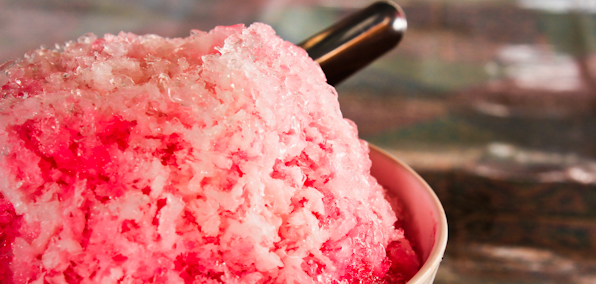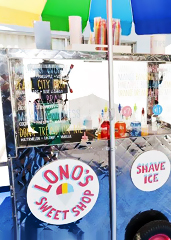 79.
That's how warm it'll be this weekend.
That's also the percent chance your weekend could be improved by a rum-soaked shave ice, poolside.
Just kidding. That percent is 100.
Stick a little plastic spoon into
Lono's Sweet Shop
—it's a new rum-stocked Hawaiian shave ice cart, and it's now chilling at the Standard Hollywood every weekend through summer's end.
Basically, pools need water, sun and a bunch of scantily clad people hanging around talking about callbacks and hemp-based sunblock. Or maybe that's just here. Anyway, they should also really have a cart like this. It was made by an artist. His new medium, he just decided, is ice. Cold, summery shave ice with Hawaiian-ish flavors.
It's nothing too unexpected, as far as shave ice carts go—some wheels and a classic silver sheen. But when it's a nice day and you just want an icy cup that tastes like watermelon or coconut or li hing mui (that's salty dried plum), and you want that icy cup to have a healthy splash of rum in it... find this cart. Order your order. Experience happiness.
And a healthy splash of rum.