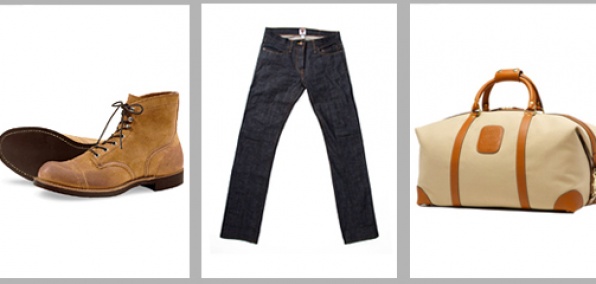 Dear America,

Thanks for the nice pants.

Sincerely,

The person who's about to discover some nice American-made pants.

Salute Ball and Buck, the new virtual outpost of Boston's most patriotically dapper men's shop, online now.

In short: these guys just really love the US of A (even their phone number ends in "-1776"). In long: these guys just really have a strict policy about stocking only American stalwarts like Red Wing boots, Tellason jeans and Ghurka duffels. The kind of stuff you can road-trip in. Catch a ball game in. Listen to Bruce Springsteen while watching a Michael Bay movie while eating a gigantic hanger steak in.

Anyway, head to their site. Pick up some seersucker bow ties to get you through the homestretch of summer. And then in a couple of months, when the leaves start to change, return for their waxed-cotton jacket (they make their own), a new leather belt (ditto) and maybe some eucalyptus shaving soap. Can never have too much eucalyptus shaving soap.

Oh, and assuming you're into music, you should know they also carry some rare, audiophile-approved, handmade-in-Seattle hi-fi speakers.

That means it's the highest-quality fidelity.