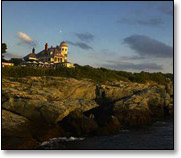 We love the city, but let's face it, in this weather we love leaving it even more. Hence UD's new Get Out of Dodge series, which will periodically hook you up with ideas for quick, local weekend getaways.
Today's Dodge:
Newport
. Reeking of old money and New England, Newport is a sleepy seaside town that can booze with the best of them. Historically home to big rollers like the Rockefellers and Vanderbilts, Newport is now an odd mix of the yachting set and the Boston bridge-and-tunnel crowd...which means you should fit right in. Our guide:
FOOD
Black Pearl. This is classic New England fine dining, and the best of Newport. Eat inside in the tavern, or out on the dock. Say it: chowdah.
Newport Creamery. Newport's version of Friendly's (another venerable New England establishment). Order a grilled cheese and an Awful Awful milkshake (awful big, awful good)...
Via Via. When the bars empty out, everyone (and we mean everyone) heads here. Pizzas fly out of ovens as late night parties are arranged (hint: if you want a whole pie, go in the door on the right to avoid the huge crowd).
DRINK
Docksides. With the recent demise of Christie's, Newport's long-standing den of iniquity, all of the other bars in town are scrambling to claim alpha-dog status. Docksides, with an indoor/outdoor set-up and live bands, has a leg up on The Landing.
ABC Club. Nested on First Beach, this is "Spring Break Newport" with beach volleyball, live music and boat drinks. Go during the day. Wear a bathing suit.
SLEEP

Castle Hill. This upscale bed and breakfast has the best view of Newport Harbor. Sit out on the lawn, order a scotch Old Fashioned and watch the yachts sail into Newport.
Viking Hotel. Old, historic and right between downtown and the beach, this is a favorite for wedding parties, so chances are you'll have a run-in with a bridesmaid or two.
STUFF

Cliff Walk. The best way to get a look at Newport's famous mansions, and a feel for what the town's all about.
Beaches. Cleverly named First Beach, Second Beach and Third Beach. First Beach for drinking and volleyball. Second Beach to chill. Stay away from Third Beach.
Newport Polo Club. Wear white, drink white wine and hang out with rich white people. Make a day of it and head to The Boathouse for dinner—ask for James Campagna (Jimmy the C's), exec chef and a friend of the Daddy.
Golf. Newport Country Club has been king of the island since 1894, but Newport National is getting serious buzz as the best course in RI.
St. Mary's Church. JFK and Jackie O got married here. Get a little history and a quickie confession on your way out of town. Lord knows you will need it.