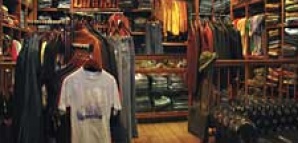 The best finds are always off the beaten path. Even a t-shirt and jeans.

While the masses have long been heading to What Comes Around Goes Around's retail store for cool vintage looks, the real find is their private, by-appointment-only Archive.
 
The huge Tribeca loft features more than 100,000 unique vintage threads scouted from all over the world (since you just haven't found the time). Every piece is a stand-out, from old school Fila track jackets, Frank Thomas distressed motorcycle boots that you can actually look decent in without a motorcycle, vintage '50s university varsity sweaters (vintage beer kegs not included)...to, yes, t-shirts and jeans. The Archive's long been an industry secret for celeb stylists, who can't exactly be shopping for their clients at Banana (because let's face it, when Matthew McConaughey shows up wearing the same shirt as David Beckham...well, it just gets ugly).  

Hit up the showroom when you need to punch up your wardrobe and your personal shopper's been on extended vacation. Ask for Hide—tell him what you like and he'll help you find it.

Chances are, you'll be coming around again.