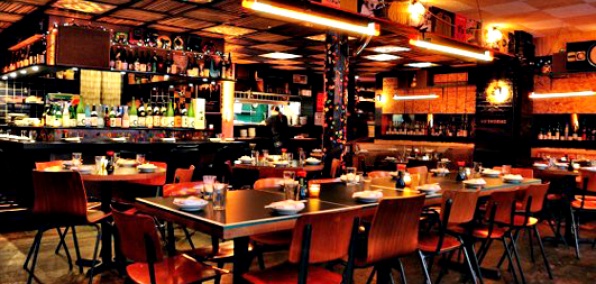 Things turn into other things. Beautiful things.
Winter turns to spring.
Caterpillars become butterflies.
Cheese becomes... grilled cheese.
And Kenmare has turned into
Maison O
, a multifaceted Japanese spot where your raw fish and karaoke fantasies will be lived out. It's now open in Nolita, and we suggest you use it thusly.
For that casual first date.

There're just enough French-Japanese movie posters and curios on the particleboard walls here to keep conversation going while you
explore yakitori and sushi
.
For a quick hit of sushi.

Just to the right of the hostess stand, there's a curtain. Pull that back, and you'll see a few booths, a handful of stools and the privacy to do whatever you like to plates of toro and unfiltered sake by the glass.
For the pre-/post-meal cocktail.

Opposite that curtain you just pulled back, there's a staircase. At the bottom of that is a cozy little lounge with cabinets of the good stuff and a private dining room. It's not fully open yet, but stay tuned.
For belting out the classics.

Keep digging past the cocktail bar, and there's karaoke. A full mirrored-column-and-stage lounge of karaoke that'll be open any day now, with a couple of private rooms as well—one that's a Japanese classroom (desks and all) and one that's a park, with a tree stump.
Don't be afraid.