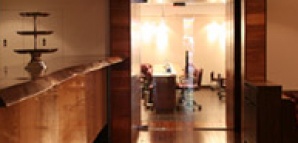 Frankly, there aren't many activities that can't be vastly improved by the addition of alcohol and women.

A deep tissue massage is no exception.

Hence Townhouse Spa, the new part-lounge, part-spa modeled after an old school social club, which is all about living it up as you get rubbed down. The downstairs floor of the townhouse is the women's spa (where potential massage-mates will abound). The second floor is the men's spa, complete with a barbershop, leather couches and plasmas. And the main floor is the lounge and bar where all can meet and mingle (and drink to skilled hands).

In furtherance of social indulgence, you can get massaged next to any willing gal, and you can also have food and drink brought straight to your treatment table (nothing says a good time like sharing a gourmet turkey sandwich during tableside backrubs).

Townhouse also has a rent-by-the-hour VIP room outfitted with all the perfect elements for a private party—three single beds, a full fireplace, wifi, and a vertical steam shower.

Now if that's not a recipe for a happy ending, we don't know what is.