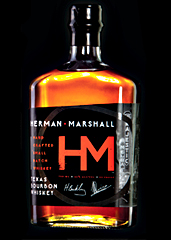 You never forget your first...
Yeah, that applies to local whiskey, too.
Grab your most special tumbler and prepare for
Herman Marshall
, Dallas County's first distillery and your new source for local bourbon and rye, available now at a handful of area watering holes and liquor stores.
That whole being-first thing is nice. But the real importance lies in the fact that this is whiskey. You like whiskey. And now your world has more whiskey. Right, glad we're all on the same page here.
So what this means: the next time you're perusing the selection at Goody Goody or ordering a dram from the Londoner on Greenville, you've got this to consider. This being a bourbon with notes of malted barley and oaky vanilla. And a spicy rye that would make a lovely Old Fashioned. Or a lovely shot of rye.
Of course, if you're curious to see how this stuff is made, that can be arranged. Eventually. Because down the road, the distillery will begin offering tours and tastings, so you can sample the wares straight from the source.
Try to keep your mouth off the still.