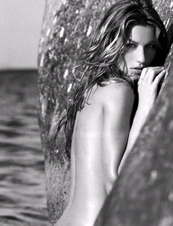 It's a busy world out there, but there's always time to appreciate a thing of beauty. Like a cloud-dappled sunset. Or a leafless mountain oak. Or a nude supermodel.
Really, they're all good.
Presenting the new
Russell James
retrospective, a volume of some of the most artfully composed studies of the female form you're likely to encounter (at least in book form).
The book is essentially a decade's worth of tropical glamour shots bound together in one glorious tome. James has been taking snaps for
GQ
, Victoria's Secret and the more beach-oriented issues of
Sports Illustrated
for years, so a stroll through his archives will bring all sorts of treasures into your world. Gisele, Heidi Klum and countless other names (and bodies) make unclothed appearances, along with a full selection of swimsuit snaps in tropical locales.
Naturally, it's all in the cause of art, so there are a few fashion-y snaps and some studies of Australian aborigines for when you feel like exercising your higher faculties. Add in a charmingly accented foreword from Ms. Klum to keep things looking legit, and you've got a new favorite coffee-table book.
So long,
The Gardens of Baghdad
.