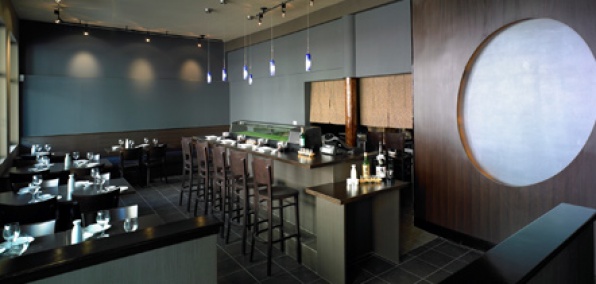 It's been said that things—good or bad—happen in threes.

And since there are already two great sushi joints in a three-block radius in Hayes Valley, you'll be happy to know that a new sushi gem is here to complete the trifecta.

Make way for Otoro, the latest sushi/izakaya-inspired sliver of a restaurant opening Monday in the old Laurel's Cuban restaurant space on Oak.

Named after the most prized grade of bluefin tuna, Otoro is setting out to be your blue-ribbon sushi hangout, where you can throw back a few Sapporos and balance it all out with traditional Japanese fare crafted by Chef Maki—who not only has the name but also 15 years behind the sushi bar.

If you're a group of two or three, the cozy eight-seat sushi bar is where you'll want to camp out. Start things off with a soju Cucumber Martini, then leave yourself in the hands of the chef, who will probably treat you to the house-special Otoro Roll, of course, and the garlic white tuna-topped Hip Hop Roll (much better than the Rock and Roll). If you're more in the mood for izakaya-like Ika Maruyaki (grilled whole squid), the banquettes to the side are the place to spread out, get a few small plates and order your way through the sake list.

Or at least until last call.