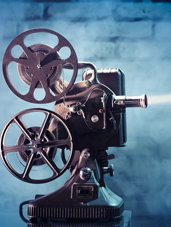 You and Netflix have a pretty good understanding.
It won't ask you how long you intend on keeping
Iron Man
, and you won't ask it for Orson Welles'
The Magnificent Ambersons,
which was never released on DVD.
For that, we're happy to announce, you can now turn to
Facets
, who have recently taken the Netflix system you know and love…and raised it by roughly 15,000 VHS tapes.
The Lincoln Park cinephile HQ has been hooking up Chicagoans with avant-garde, foreign and indie films for more than 30 years—and that won't change. But now that they've had a chance to fully embrace the times, they're rolling out a super-easy, super-convenient Netflix-like service on their
website
that lets you scroll through their entire movie library (in your boxers) and keep films for as long as you want without late fees.
Which means in addition to all the blast-from-the-past VHS offerings, you'll have fast access to Facets' 27,000 DVDs, including rare and import titles like the controversial Japanese flick
Battle Royale
or Akira Kurosawa's first color feature,
Dodesukaden
.
All you have to do is log in and select up to four cinematic gems—and one to three days later, you could be dusting off the VCR to admire Joan Crawford in all her fading glory in
Johnny Guitar
.
Nobody has to know.